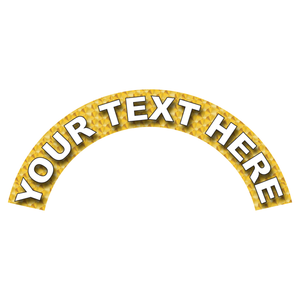 Reflective Gold Leaf Fiber Helmet Crescent Decals. Select your rank or position from the drop down menu (e.g. Firefighter, Chief, etc.). You can also personalize your crescent by entering what you'd like it to say in the Custom Text box. We've helped many customers with unique Helmet Crescent decals, and look forward to serving you!
Please note these can be ordered as a SINGLE or a PAIR. Printed on premium 3M reflective vinyl; Helmet Crescent size is 3" x 7" (height x width).
From the standard white background, to any of our one-of-a-kind, custom backgrounds found only here at Fire Safety Decals, we have you covered! But if for any reason you don't see what you are looking for, please don't hesitate to Contact Us with your custom needs today. We have assisted many customers with custom Helmet Crescents, and we are more than happy to help!
All of our decals are 100% Reflective meaning EVERY last color is reflective using our process. All reflective material used is engineer grade quality and meets all legal standards and specifications. Stand out from the crowd with our custom reflective decal designs!